Arctic Wolf Platform for the HIPAA Security Rule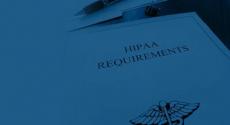 The Health Insurance Portability and Accountability Act (HIPAA) Security Rule focuses on the safeguarding of electronic protected health information (ePHI) through the implementation of administrative, physical, and technical safeguards.
Covered entity and business associate (CE & BA) organizations are required to ensure the confidentiality, integrity, and availability of all ePHI they create, receive, maintain, or transmit; protect against any reasonably anticipated threats or hazards to the security or integrity of such information; protect against reasonably anticipated unauthorized uses or disclosures of protected health information (PHI); and ensure compliance by its workforce.
Compliance with the Security Rule is mandatory for organizations defined by HIPAA as a CE & BA, and such organizations face frequent challenges in safeguarding ePHI from a myriad of internal and external risks.
Review of the Arctic Wolf® Platform for the HIPAA Security Rule
Coalfire, a compliance consulting firm, evaluated the Arctic Wolf Platform to determine its suitability to assist healthcare CE & BAs in meeting the HIPAA Security Rule requirements using a particular use case.
This white paper details how the Arctic Wolf Platform's security capabilities, functions, and features align with the standards adopted by the Secretary of Health and Human Services (HHS) under HIPAA for protecting the privacy and security of certain health information.
See how our platformed stacked up in terms of meeting this key compliance requirement for healthcare organizations. Read the Coalfire white paper for insight into how the Arctic Wolf Platform's usability in a HIPAA-controlled environment.